36% of weekday CaBi rides - 40% during peak hours - are faster than Uber
I estimate that 36% of weekday CaBi rides within the CaBi service area are faster than the corresponding Uber travel time, based on comparing all available CaBi ride data (Oct 2010-Mar 2017) with the latest available quarter of Uber data (Jun-Oct 2017). During peak morning and afternoon commute hours, CaBi rides beat Uber rides 40% of the time. An equivalent but less exciting way of saying this is that if CaBi riders switched to Uber, they would arrive faster 64% of the time.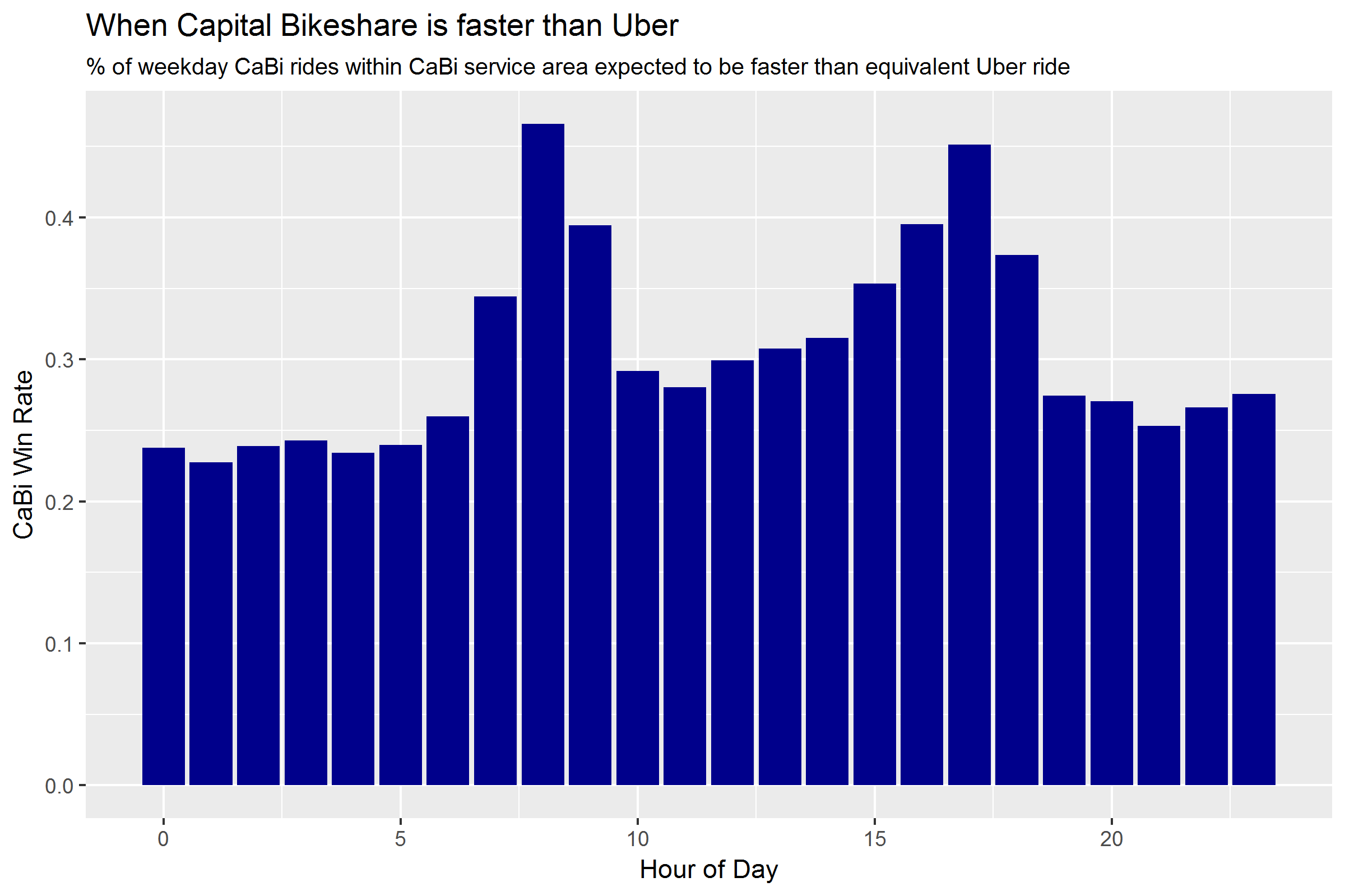 Distance is also a key determinant of whether CaBi will beat Uber. Rides of 5km and less have a 30%+ chance of beating Uber, while rides greater than 5km are less likely to beat Uber.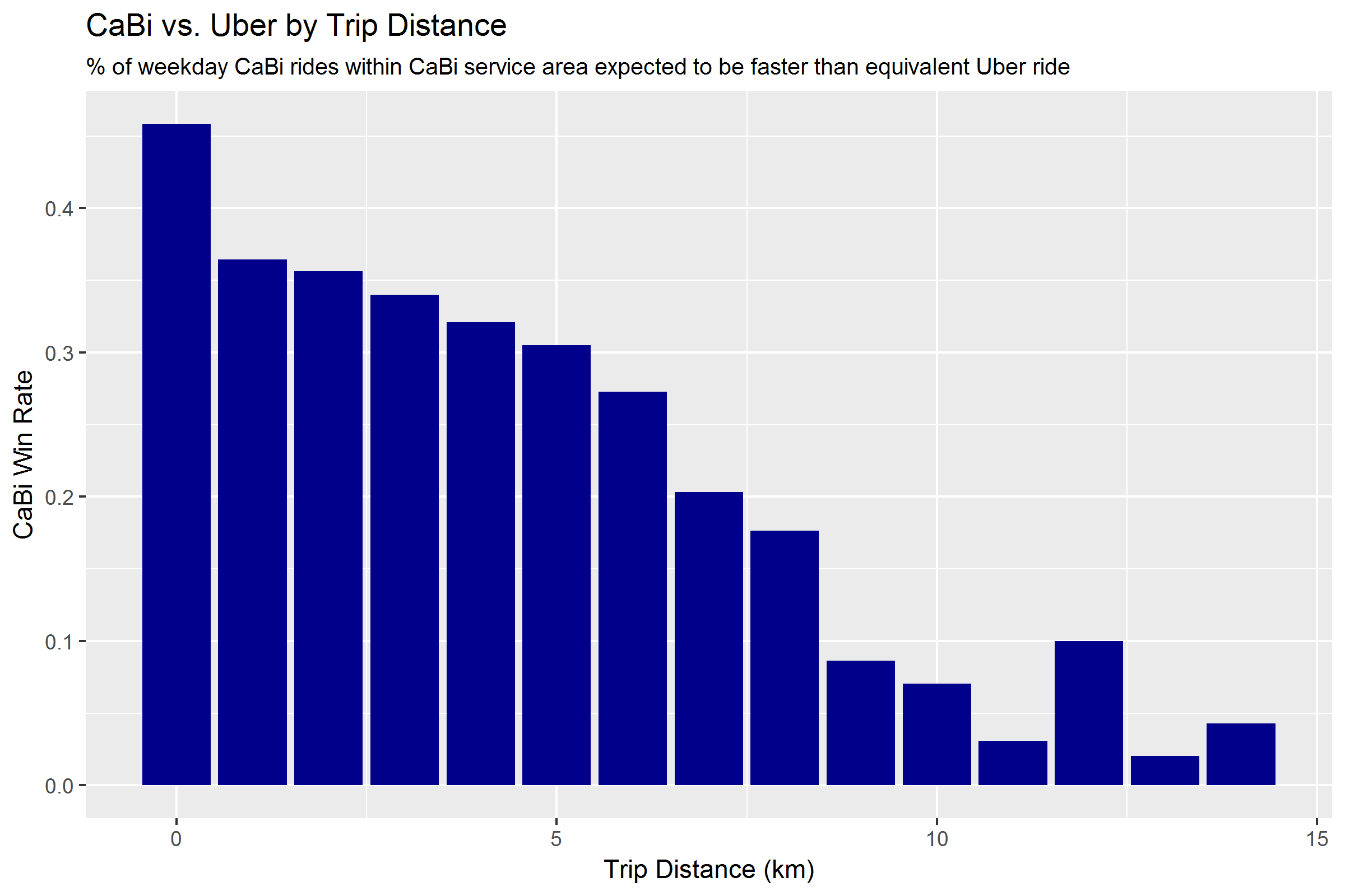 There are some significant caveats to this estimate. First, it assumes that the distribution of Uber rides by hour of day is the same as the CaBi ride distribution (imagine that before riding, each CaBi rider is faced with the choice of taking Uber or CaBi). Uber does not release the number of rides taken for each trip, only the average travel time. If a greater percentage of Uber rides occurs during off-peak hours - when Uber is overwhelmingly faster than CaBi - then I am overestimating the likelihood that bikeshare will win.
Practically speaking, if many Uber riders simultaneously switched to CaBi bikes, the bikeshare system would probably hit severe capacity constraints, making it difficult to find available bikes and docks. Increased bike usage might eventually lead to fewer vehicles on the road, which could ease vehicle congestion, and potentially increase bike lane congestion. It's important to acknowledge that when I say "40% of Uber rides would be faster if they switched to CaBi", we're roughly considering the decision of a single able-bodied person, under the assumption that everyone else's behavior will remain unchanged.
Additionally, trip time only describes the time between start and end destination. While Uber rides are typically door-to-door, CaBi rides exclude the time it takes to walk from the starting point to the nearest bikeshare station, and from the end bikeshare station to the final destination. On the other hand, we also exclude Uber wait time - the time between requesting an Uber ride and being picked up. These unmeasured times are likely largest as a percentage of total trip time for shorter trips - i.e., the trips that CaBi is most likely to beat Uber on.
Finally, Uber has a strong incentive to get riders from point A to point B as fast as possible (profit motive), whereas CaBi riders get the first 30 minutes of their rental free of charge. It is difficult to limit CaBi ride data to only commute rides, which are the rides most likely to be time sensitive. For more discussion, please see the Data Filtering section below.
Maps Maps Maps!
This map depicts the percentage of PM peak hour (4-7pm) trips "won" by CaBi based on the most popular starting location for CaBi rides - census tract 203, which includes Farragut Square (the heart of DC's business district) and stations along the heavily-used M Street and L Street cycle tracks. Overlaid on the map are markers for each CaBi station.
Surprisingly, from Farragut Square, CaBi is most advantaged not in adjacent census tracts (the shortest trip distances), but in medium (<5k) distance trips across town (Union Station, H Street NE) and uptown (Columbia Heights). These are routes that have well-developed bicycle infrastructure (15th Street cycletrack, Penn Ave cycle track), but are difficult for cars to navigate due to many traffic lights and no highway alternatives.
Percent of CaBi "wins" by destination census tract, for rides originating in Farragut Square (Tract #203, in blue)
---